A Hundred Years of Happiness
A Hundred Years of Happiness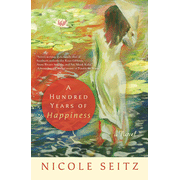 by Nicole Seitz
Publisher: Thomas Nelson, March 2009
ISBN: 1595545026
ISBN-13: 9781595545022
320 pages
List Price: $14.99
Book Description: In the South Carolina Lowcountry, a young mother named Katherine Ann is struggling to help her tempestuous father by plunging into a world of secrets he never talks about. A fry cook named Lisa is trying desperately to reach her grieving Vietnamese mother who has never fully adjusted to life in the States. And somewhere far away, a lost soul named Ernest is drifting, treading water, searching for what he lost on a long-ago mountain. They're all yearnng for connection. For the war that touched them to finally end. For their hundred years of happiness at long last to begin.
"A Hundred Years of Happiness" is a treasure…a truly lovely book! Rich characters, down to earth dialogue, and a meaningful storyline make it the perfect summer read.
Nicole Seitz has a way with sentences… they flow, they meander, and they artfully weave characters, thoughts, and ideas in the most adept manner. By the last chapter I was doing things like sucking in my breath, and saying "Oooo!" It's not that A Hundred Years of Happiness has a surprise ending, but more that it has a deeply satisfying, tender, touching, (I'm reaching for adjectives here) and poignant ending. It's a beautiful book that will stay with you long after you've turned the last page.