A Mile in My Flip-Flops
A Mile in My Flip-Flops
by Melody Carlson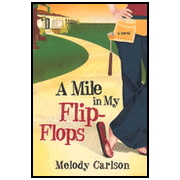 Water Brook Press, June 2008
ISBN: 1400073146
ISBN-13: 9781400073146
330 pages
List Price: $13.99
Thirty-something Gretchen Hanover is stuck. Seeking solace from a broken heart, she traded her wedding plans for home improvement shows and ice cream—but she knows she can't live on Ben and Jerry's forever. She also knows that her enthusiastic Lab puppy has outgrown her tiny apartment.
Cute, cute, cute! I literally smiled my way through the last third of this book. If you like HGTV and home improvement television shows, this is your book. But even if you don't, you'll find "A Mile in my Flip-Flops" a fun read.
The story begins when thirty-two year old, recently jilted, Gretchen makes the bold move to become a "house flipper." She's watched people on TV do it, and is sure she can do it too! So with the help of her dad she purchases a fixer upper and gets to work. The book chronicles her journey to transform a dilapidated, crumbling house and turn it into a lovely family home. Gretchen's funny antics are silly—but not over the top.
And of course "A Mile in My Flip-Flops" has a love story too. Now I'm somewhat picky about my love stories, and frankly I'm repelled by anything too sappy or phony. But the romance in Carlson's book was really believable, appealing, and satisfying.
Overall, I very much enjoyed reading about the renovation of Gretchen Hanover's fixer-upper—but even more; I enjoyed reading about the renovation of Gretchen's life.