Bathtub Books
A nasty back and neck injury last month made long baths a daily necessity. To pass the time I read, of course. Now don't ask me why, but in my opinion bathtub reading is not for serious books or a hardcover masterpiece. Bathtub books are the same type of reading you'd do at, say, the beach. The book gets bent back…that's okay. The book gets a bit damp…no problem. Spilled coffee or smudged soap…all okay, because it's a bathtub book! Below you'll find two of my best bend-'em-back-and get-'em-wet recommendations. Both are over 350 pages (a very good thing in my book), interesting enough to keep you soaking longer than you should, and a thoroughly enjoyable read.
Kidnapped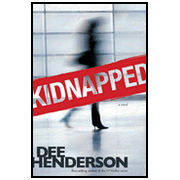 by Dee Henderson
Tyndale House Publishers, September 2008
ISBN: 1414323638
ISBN-13: 9781414323633
368 pages
List Price: $12.99
A Killer Returns
FBI agent Luke Falcon has a dead woman on his hands, a fresh victim from his old adversary Frank Hardin. This time, Frank won't walk away. But even that case will have to wait when Luke's extended family disappears over Labor Day weekend. Is there a harmless explanation? Or could they have been victims of a sordid crime?
A Fragile love Falters
Fifth-grade teacher Caroline lane cares deeply for Luke, but she's not certain she can handle the pressures of dating someone in his line of work. When foul play strikes his family, she gets a far closer view of those pressures than she ever wanted. She's grateful that God brought Luke into her life. But will they share anything more than tragedy by the time the storm passes?
A Kidnapping Goes Awry
Luke has never worked a case involving family. It's tempting to let his hardened exterior weaken, given the circumstances. But he has to be strong if he's going to bring them all home. When the ransom delivery doesn't go down as planned and the bodies start piling up, so does Luke's frustration. He fears that innocent people may not survive this crisis…and neither will his relationship with Caroline.
This is my very first Dee Henderson book and I can now say I am a loyal and diehard fan. Exciting story, interesting characters, and a touching romance (not the super-gooey, hit-you-over-the-head variety of romance I despise—but a true-life, genuinely appealing type of romance). If you're a Dee Henderson groupie, you're going to love this book (just be warned Kidnapped was previously published as True Courage).
Faking Grace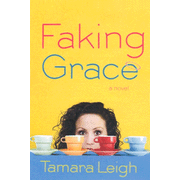 by Tamara Leigh
Multnomah Books, August 2008
ISBN: 1590529294
ISBN-13: 9781590529294
400 pages
List Price: $12.99
Maizy Grace Stewart dreams of a career as an investigative journalist, but her last job ended in disaster when her compassion cost her employer a juicy headline. A part-time gig at a Nashville newspaper might be her big break.
A second job at Steeple Side Christian Resources could help pay the bills, but Steeple Side only hires committed Christians. Maizy is sure she can fake it with her Five-Step Program to Authentic Christian Faith—a plan of action that includes changing her first name to Grace, buying Jesus-themed accessories, and learning "Christian Speak." If only Jack Prentiss, Steeple Side's managing editor and two-day-stubbled, blue-jean-wearing British hottie wasn't determined to prove her a fraud.
When Maizy's boss at the newspaper decides that she should investigate–and expose–any skeletons in Steeple Side's closet, she must decide whether to deliver the dirt and secure her career or lean on her newfound faith, change the direction of her life, and pray that her Steeple Side colleagues–and Jack–will show her grace.
I completely enjoyed Faking Grace! Although the main character, Maizy Stewart, starts off as a conniving fake—she eventually evolves into a woman who fully understands her need for redemption. This is an entertaining novel and an easy read—perfect for long soaks in the tub, or lazy days by the fire.