Eat This and Live!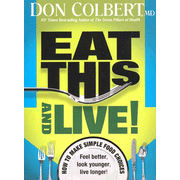 Eat This and Live!
by Don Colbert, MD
Publisher: Siloam Press, December 2008
ISBN-10: 1599795191
ISBN-13: 9781599795195
179 pages
List Price: $15.99
In Eat This and Live! Dr. Don Colbert provides a road map to help you navigate this often treacherous territory. Presented in an easy-to-access four-color format that includes charts, sidebars, food recommendations, and nutritional tips, Eat This and Live! teaches readers what the Bible has to say about food and gives recommendations on which foods to eat heartily, eat in moderation, or avoid. Based on the key principles for healthy eating in Dr. Colbert's New York Times best seller, The Seven Pillars of Health, this practical guidebook to food includes "Dr. Colbert Approved" foods and restaurant menu choices.
I enjoyed holding this book in my hand. It's the perfect size (could fit in my purse), it's printed on extra thick paper (didn't get dog-eared in said purse), and it has tons of colorful graphics, photo's, charts, facts, tips, etc. It's one of those books you can pull out of your purse and read in snatches (like while waiting for the kids to come to the car after school). Apart from its great look and feel, Eat This and Live! is a wealth of important information about our everyday food choices. But be warned; Dr. Colbert does set the bar (sometimes ridiculously) high when he writes of good and bad foods. Yet, if you love facts on health and nutrition, and you're striving to eat a more healthful diet in 2009, then this book is definitely for you!