For Young Men Only: A Guy's Guide to the Alien Gender
By guest reviewer Zach Koehn (16 year old)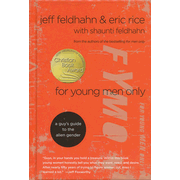 For Young Men Only: A Guy's Guide to the Alien Gender
by Jeff Feldhahn & Eric Rice
Multnomah Books, September 2008
ISBN: 160142020X
ISBN-13: 9781601420206
192 pages
Young Adult
List Price: $13.99
Just for guys… The inside scoop on girls, from the girls themselves.
Okay, the authors aren't girls. But to bring you the facts they surveyed more than 1,000 of them. Every teen guy wants to know how girls are wired, what they want, and how they really think… Or at least how to talk to a girl without feeling like an idiot.
Here's your chance to find out.
"For Young Men Only" is a good book. It gave me a much greater understanding of the opposite sex and insight into the way girls think. I feel that reading this book has helped me in my friendships with girls, as I now more understand of how they are feeling, and how to treat them. It's also shown me how certain things I used to say without thinking, could affect them in negative ways.
On the downside, "For Young Men Only" can get a bit corny at times. Also, a few of the charts are difficult to understand, and being an admittedly lazy teenager—I passed right over them. But all in all, I would recommend this book. The authors share valuable information and much needed insight for clueless teen guys.