Glimpses of Heaven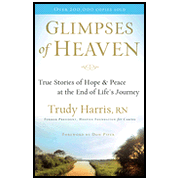 Glimpses of Heaven
Trudy Harris R.N.
Revell Books / 2008
ISBN: 0800732510
ISBN-13: 9780800732516
192 pages
List price: $12.99
Trudy Harris began her career with Hospice in 1981, eventually becoming the president of the Hospice Foundation for Caring. This collection of more than forty true stories of Harris's patients offers readers an incredible glimpse at what lies beyond and what the living can learn from the dying.
"Glimpses of Heaven" is a tender and inviting book that will be deeply encouraging to people of all ages and all walks of life. Broken up into 44 short stories—it gives readers an inside look into the final days of those who are dying.
The stories are varied—everything from the dying experience of toddlers, to the last days of middle aged people, to the lingering deaths of the very old. One story tells about forty-seven year old Mark, a man dying of pancreatic cancer. Harris tells that in his very last moments "suddenly his eyes opened wide, and, sitting up in bed under his own strength with arms raised in the air and a big smile, he said, 'There it is. I can see it. It's beautiful.' And lying back down he took his last breath and died." Another story tells us of Lenora, a fifty-four year old woman who is dying of a brain tumor and her encounter with an angel a few days before her death.
The genuine faith of the author shines through "Glimpses of Heaven" from cover to cover and I was inspired, instructed, and even convicted by her childlike faith and unwavering love toward her fellow man. It's not just a book about what happens right before someone dies—it's also almost an instruction manual for those caring for the terminally ill. "Glimpses of Heaven" is touching, amusing, hopeful, and above all else comforting.