Happy for the Rest of Your Life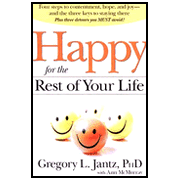 Happy for the Rest of Your Life
by Gregory L. Jantz, PhD and Ann McMurray
Publisher: Siloam Press, February 2009
ISBN: 1599793946
ISBN-13: 9781599793948
242 Pages
List Price: $14.99
Whoever said happiness was a pursuit wasn't kidding. We search high and low, spend money we may or may not have, engage in all kinds of behaviors for good and ill, and still come up short in the happiness department. Happiness becomes a destination we're supposed to reach, but we never seem to get there. If happiness is a destination, who has the directions?
In Happy for the Rest of Your Life, Dr. Gregory Jantz provides the road map. Combining the wisdom of the Bible with his own personal examples, he enlightens, encourages, and motivates you toward happiness as he explains:
Our misconceptions about what happiness is and where to find it
Dead ends on the road to happiness and how to avoid them
Why God is really the author of "Don't Worry, Be Happy"
On the road to happiness, many people just wander through their lives and figure they'll run into it somewhere, someday. In fact, they're not even sure what they're looking for. Fortunately, there is a source of correct directions written by someone who knows what true happiness is and where it's found. It is time to find true happiness in your life that isn't based on past, present, or future circumstances or experiences.

"Happy For the Rest of Your Life" is a truly enjoyable book and one which I found helpful and enlightening. Dr. Gregory Jantz exudes credibility and has a way of making the reader/author relationship seem personal and friendly. The book overflows with helpful information and realistic take-away points—but is also highly entertaining because of the many interesting stories interspersed throughout. "Happy For the Rest of Your Life" has unique qualities to it (for instance something called "rest stops" at the end of each chapter) and is written in an engaging and friendly manner. I highly recommend it, and believe it would make a great gift to those struggling with depressing and anxiety during these tough times.