Light Across the River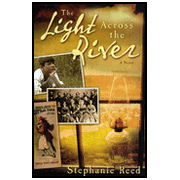 Light Across the River
by Stephanie Reed
Reading level: Young Adult
Paperback: 216 pages
Publisher: Kregel Publications; 1st edition (April 30, 2008)
Language: English
ISBN-10: 0825435749
ISBN-13: 978-0825435744
List Price: $10.99
Light Across the River is the sequel to Across the Wide River. Both historical novels by Stephanie Reed tell the story of the Rankin family, conductors for the Underground Railroad. Reed's careful research shows in the authentic dialogue and settings.
I thoroughly enjoyed the first book and recommend reading it first, but this book stands on its own. Reading the exciting and heartwarming adventure told through the eyes of Johnny Rankin and Eliza, a runaway slave, I cried, I laughed, and I learned. I shivered as the chunks of ice gave way under Eliza's feet as she navigated the Ohio River in her desperate escape from slavery. Taking in shallow breaths, I could almost hear the slave hunters' dogs and prayed that Eliza wouldn't be found before she made her way to freedom – something we take for granted.
You'll never forget the story. What a treasure trove of information and inspiration! Though designated as juvenile fiction, this is a book for all ages.