The Husband Project
The Husband Project: 21 Days of Loving Your Man--on Purpose and with a Plan
by Kathi Lipp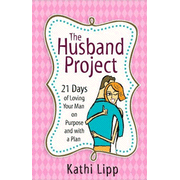 Publisher: Harvest House Publishers, January 2009
ISBN: 0736925228
ISBN-13: 9780736925228
208 pages
List Price: $12.99
Using the sense of humor that draws thousands of women a year to hear her speak, Kathi Lipp shows wives through simple daily action plans how they can bring the fun back into their relationship even amidst their busy schedules.
Although "The Husband Project" is camouflaged as an adorably written and delightfully funny book, in all reality it's a powerful tool to help facilitate a more solid and fulfilling marriage. Lipp's engaging style of writing presents her many suggestions in a plausible and palatable way.
Many times during the reading of this book I actually laughed out loud at Lipp's humor, yet at other times I felt deeply challenged to be a better wife. But through it all I felt like I was sharing a cup of tea with a good friend—no condemnation to be found, only love and encouragement. Because the author is willing to laugh at herself and be honest about her own past mistakes, I found myself open to her suggestions and insights.
The Husband Project is so much more then a "book about marriage." It's a cornucopia of helpful information—everything from crock-pot recipes to informational websites, recommended books to a list of "guy movies." Chock full of fresh ideas and practical insights, the principles found in "The Husband Project" are sure to infuse marriages everywhere with renewed passion and reawakened love.
A Conversation with Kathi Lipp
Question: I'm wondering what motivated you to write this book?
Kathi: Like most women, I noticed that after just a couple of years of marriage my husband and I had gone form over the top romantics to tolerant roommates. So I started thinking and praying about what would truly make my husband feel loved (and maybe even lucky to be married to me.) I made up a list and began practicing on Roger. Some of the ideas (buying him a gift card to his favorite restaurant and surprising him with an impromptu date) were big hits. Others (like opening mystery clues for an all day adventure) were, let's say, less than successful.
After several flops (hey, I thought the guys at his work would think that his lunch sack covered in hearts was adorable…) I finally got desperate. I asked him, "Okay, what would make you feel loved?" (And yes, I felt pretty pathetic to be asking.) After showing him the list, he gave me thumbs up or down on several of the items. I now had a much clearer plan in place. No, cookies in the shapes of bunnies were not necessary. Homemade raw cookie dough, however, was a big thumbs up.
Question: I see that you recommend doing the project with a couple of friends. Why is that?
Kathi: I'm famous for starting projects that never quite see completion. I have about $700 worth of scrap booking materials and drawers filled with beads and fasteners, all taking up a disproportionate amount of space in my home. We won't even begin to discuss the number of new-and-never-opened books I have jammed on my bookshelves (and under my bookshelves, and under my bed…).
We all have projects that we start enthusiastically and never manage to finish. I don't want this happen to women with The Husband Project.
There are several ways to assure that you stick with it for the long haul. Putting your plan on paper (or jotting it by hand in this book) is certainly one way to up your chances of doing all 21 Projects. Prayer is definitely key to persisting through your project when your husband has been, let's say, less than charming that day. But, by far, the biggest determination about whether you complete The Husband Project, or this book gets conveniently lost under your bed, is having a couple of committed accountability partners.
In the company of good friends, your experience with the project will be more fun, more creative, and you'll increase greatly your chances of completion.
Question: It seems that some of the ideas you talk about some women might find a little too "'50's housewife". Make him meals, use encouraging words (even if you don't feel he doesn't deserve it,) and wearing lingerie. How have women reacted to the book?
Kathi: Yes, it is a hard sell for some women when you start to talk about putting your husband's needs at the top of your to-do list. It is very counter culture to talk about putting your man's desires as a priority and I do get push-back. But, I do have to say that when women do the Project together, there is freedom in knowing that a lot of women are doing this really radical thing together and getting great results.
I have spoken all over the country about The Husband Project and I really get in women's faces about changing the way we think about our relationships. One of the most direct areas I talk about is lingerie. What I always say is that God designed my man to enjoy lingerie, and in a healthy marriage, I am the only way that my husband gets to enjoy lingerie. So even though I am not always confident in my body, sometimes I just need to "Shut up and Suit up". The women's reaction is amazing. Most women really want to show their husbands love in all the ways that they can. I have had several groups report group lingerie shopping trips and accountability. Here is a letter I got from one of my audience members:
I am the leader of the "shut up" group at our church. We actually renamed ourselves because I kept getting scolded by my 4 year old son that "shut up" it a bad word... which is true in our household. Our new name is S.U.S.U., and acrostic for "shut up, suit up". We have been at the projects for a few weeks now and are having so much fun! The main focus is our attitude and why we are doing these projects instead of what we'll be getting out of it. However, we have reaped the benefits of honoring our most loved on this earth. There have been random flowers, acts of kindness and so many fun little stories that this note would end up rather long. Thanks for taking the time to come to our church, make us laugh and challenge our lives. What a great project.
Now those are some results that are worth putting on some lingerie for!