The Maker's Diet for Weight Loss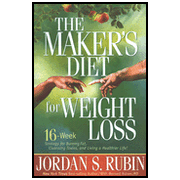 The Maker's Diet for Weight Loss
by Jordan S. Rubin
Publisher: Siloam Press
ISBN-10: 1599795183
ISBN-13: 978-1599795188
305 pages
List Price: $14.99
Building on the principles of his New York Times best seller, The Maker's Diet, Jordan Rubin takes his nutritional strategies to a whole new level in this 16-week program designed to help you finally achieve your weight-loss goals. By addressing your whole person body, mind, emotions, and spirit, The Maker's Diet for Weight Loss will help you reach a weight that makes you look good and feel good about yourself as you...
Eat for your body type, age, gender, and region
Maximize nutrients while reducing calories
Eliminate toxins inside and outside your body
Learn the best ways to "cheat" without getting off track
And much, much more!
Wow. This book is definitely not for dieting sissies. The Makers Diet for Weight Loss offers readers an "extreme makeover" from the inside and out. Rubin begins his book by making the case for eating only organic, non-processed, whole foods—and then goes on to spell out a well-planned, easily-understandable 16 week strategy for losing weight and cleansing the toxins from your body. The Makers Diet is over 300 pages long, and bursting with information about everything from good and bad foods, to overall health facts, to a quiz on "What's Your Nutritional Type?" (I'm a "meat type" in case you're interested). I will say I found some of Rubin's ideas extreme (there's that word again), but for the person interested in a radical change in the way they think about, shop for, prepare, and eat food—this is the book for you.