The One Year Women's Friendship Devotional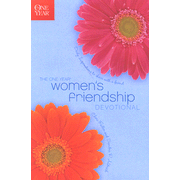 The One Year Women's Friendship Devotional
Cheri Fuller and Sandra P. Aldrich
Tyndale House Publishers, September 2008
ISBN: 1414314582
ISBN-13: 9781414314587
432 pages
List price: $14.99
Women need to connect with other women in deep, meaningful ways--especially within the context of a mentoring relationship or spiritual friendship. Older women who have experienced the heartache of life's journey can offer encouragement and wisdom to younger women beginning their journey with God. Younger women can inspire and inform the older generation. The One Year Women's Friendship Devotional will not only provide daily wisdom and encouragement from God's Word throughout the year but will also encourage women across the country to cultivate meaningful, spiritual friendships.
"The One Year Women's Friendship Devotional" is a beautiful and substantial book that would make a thoughtful Christmas present. In it Fuller and Aldrich offer a daily teaching in the form of interesting stories, personal anecdotes, and parables. Each day's reading also includes a Scripture, a short prayer, and an inspiring quote. Every week covers a different subject that is of particular interest to women—and the authors have designed the book to be discussed once a week with a close friend. They suggest getting together over coffee or for a walk to talk over the previous week's material.
I love the idea of this book as a gift, because in giving it your not only presenting your sister or friend with a lovely book—you're also giving them the gift of your time. Time to talk….time to walk and pray…time to think over and consider the things you've read.