The Shack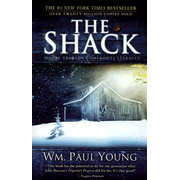 The Shack
William P. Young
Windblown Media May 2007
ISBN: 0964729237
ISBN-13: 9780964729230
256 pages
List price: $14.99
Mackenzie Allen Philips' youngest daughter, Missy, has been abducted during a family vacation and evidence that she may have been brutally murdered is found in an abandoned shack deep in the Oregon wilderness. Four years later in the midst of his Great Sadness, Mack receives a suspicious note, apparently from God, inviting him back to that shack for a weekend.
The Shack…..hmmmm, where do I start? I'm all over the map on this one. For the most part I very much enjoyed the message that came through loud and clear in this almost-an-allegory, not-quite-a-fantasy book. I did have a few minor theological differences with the author. But if readers approach this book as a "fantasy" they will find the reading experience uplifting and enjoyable.
There's been such an uproar about this book—some folks love it and laud it as the next "Pilgrim's Progress (I wouldn't go that far), while others hate it, calling it heretical. But through it all it's important to note that The Shack is not meant to be an explanation of Scripture—but more of an unfolding of God's heart toward man. It's a fresh look through fresh eyes at the depth of God's love for humankind.
Okay, now for the down side; I did find the beginning of the book (about the missing child) quite disturbing. In fact, through most of Chapter 4 I skipped over text through slanted almost-closed eyes. But overall I'm so glad I pressed through and continued reading, because The Shack turned out to be an engaging, powerful, and uplifting story…very unusual…very warm and inviting…and like nothing else I've ever read.