Through the Storm
Through the Storm: A Real Story of Fame and Family in a Tabloid World
by Lynne Spears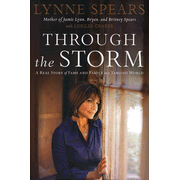 Thomas Nelson
ISBN: 1595551565
ISBN-13: 978-1595551566
272 pages
List Price: $24.99
Britney Spears wanted to sing ever since she was a little girl. But the years of sacrifices, auditions, performances, albums, fame, and paparazzi left the little Louisiana family swept up and spun around, and nothing turned out the way anyone ever imagined or wanted. Now Lynne shares the inside story of the Spears family as only a mother can.
Through the Storm takes readers outside the narrow orbit of the Hollywood glitterati. Lynne shares how fame forever changed their family; her regrets letting managers, agents, and record companies direct the lives of her children; the challenges that shaped Lynne and Jamie's failed marriage and how they affected Bryan, Britney, and Jamie Lynn; the startling events that led to Britney's breakdown; the aftermath of Jamie Lynn's pregnancy; and how the family has tried pulling together to recapture a sense of hope and purpose.
When I received "Through the Storm" in the mail for possible review, I cracked it open with major reservations, an air of skepticism, and a bad attitude. I mean who wants to read any more about Britney Spears, right? I sure don't. We, the viewing public, have already been subjected to endless "news" stories, video footage, and salacious photographs of this young woman's sordid life. Why would I willingly subject myself to more information about her? (Told you I had a bad attitude).
I will have to admit to being pleasantly surprised that "Through the Storm" is really more of Lynn Spears' memoir, and chronicles her life from early childhood to present day. It's interesting, humble, and touching. They say that everyone has a story—and Lynn Spears is no exception. Her story is compelling, and because of that, "Through the Storm" is definitely a page turner. Yes, the book does recount Britney's younger years, her quick rise to fame, and her resulting troubles—but this information actually leads to more understanding and compassion for a family caught in the spotlight of notoriety.
The downside of "Through the Storm" is the occasional blaming and finger pointing that Lynn Spears does when it comes to her ex-husband Jamie. She also seems to spend considerable energy trying to justify and rationalize several unwise parenting decisions (i.e. leaving her son Bryan with his supposedly alcoholic father for weeks on end; allowing her youngest daughter, Jamie Lynn, to get involved in show business after experiencing some of the pitfalls of fame with Britney, etc). But, overall I enjoyed reading "Through the Storm" and found the author to be likeable. Like the rest of us she's far from perfect—but she's definitely got a story to tell. You may not agree with everything she says or does, but I'm sure you'll enjoy reading about one woman's story of fame and family in a tabloid world.